Strategic guide to building Diversity & Inclusion learning programs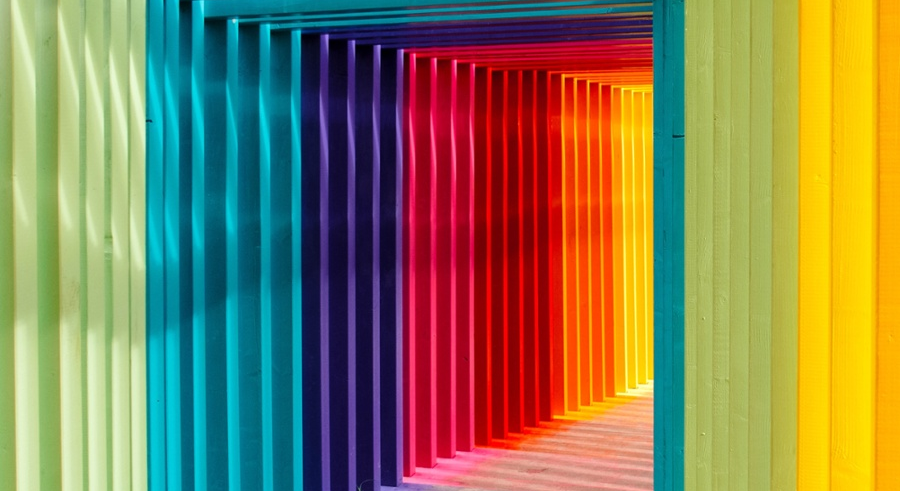 One of the most prominent and newsworthy topics in corporate strategy today is Diversity & Inclusion. A critical piece of D&I strategy involves having a strong approach to D&I learning -- an approach that goes beyond awareness building to activate change within the workforce. ETU has created this strategic guide to building D&I learning programs.
Use the table of contents below to navigate through the guide:
Why D&I learning programs? Why now?
The current socio-political environment has prompted a renewed examination of diversity & inclusion strategies within corporate America. As companies reflect on their current D&I approach, learning and training programs for employees are at the forefront. Until now, many corporate D&I training initiatives have had somewhat limited aspirations -- raising the awareness of blind spots, or examining unconscious bias, for example. As D&I programs receive greater attention and as companies want to demonstrate results, moving beyond awareness to visible behavior change has become paramount. It's critical to not only help the workforce to recognize their gaps, but also enable workers with ways to change their behavior.

What's needed is greater direct action on what individuals within the organization do, and how they can influence change and nurture an inclusive environment. Driving progress for the organization requires behavior change at the individual level. Nurturing inclusion requires individuals to think beyond themselves to build trust and foster authentic connections.

The good news is that simulations are able to provide this type of learning at scale. Learners need immersive, scenario-based training environments that allow them to apply conscious and unconscious decision-making and see the impacts of their actions in a safe way. Bespoke, just-in-time feedback is also critical, as it further prepares learners for the kinds of situations they may face in the real world.
Which D&I topics should companies focus on for their learning programs?
With Diversity & Inclusion programs in the spotlight, the range of topics being considered for learning programs has multiplied. Which topics are the highest priority and why? Companies should start by answering a few key questions:
How do the topics link back to corporate goals?
Which topics are having the biggest impact on the workforce today?
Do behaviors related to these topics need to be changed?
Which behaviors can be measured?
Some D&I topic areas that can drive change in organizations today include understanding and unpacking privilege, identifying microaggressions, unconscious bias, covering and passing, and allyship, as well as mental health impacts, as they relate to:
Race and ethnicity
Gender identity and expression
Transgendered colleagues/transitioning in the workplace
Reasonable accommodations based on physical requirements
Religious identity
Transitioning from active military duty to civilian life
Age discrimination
Intersectionality
Equal pay
According to the 2019 Diversity Value Index (DVI), most organizations have gender-specific targeted programs. However, the top performing "vanguard" organizations in their study were more likely to have programs targeted toward race/ethnicity, sexual orientation, disability status, and veteran status. Cultural competency training or sensitivity training were the most common strategies for all organizations in the DVI study, and top-performing organizations were 10% more likely to use them.
The current global COVID-19 health crisis has revealed and underscored certain societal inequities that make the case for effective D&I learning even more urgent. The role of working mothers, who are balancing child care and job responsibility during COVID-19 , is a gender-related issue that has received recent attention, and the clear need for empathy in leadership is apparent. Systemic health and social inequities have put people from racial and ethnic minority groups at increased risk from COVID-19, which also has put a spotlight on race-related issues and racism in the workplace.
Which technologies are being used to deliver D&I learning?
As D&I learning content is rolled out to a workforce, the natural consideration is which channels are most effective for delivering the learning programs. Numerous technologies are being used to deliver both general communication as well as learning programs on D&I topics.

As we navigate the technology options that are specific to learning delivery, it becomes clear that immersive, platform-based training drives true behavior change.

When immersive, situation based technologies are used:
Scenario-based situations allow learners to feel real-life experiences, while seeing the results of their choices and actions
Feedback is given on actual skills demonstrated in specific examples
Learners can practice in a safe environment
Learners take the situation into their own hands, being responsible for their own self-awareness and self-development
Simulations prepare the learners how to act in difficult situations they are likely to encounter. Learners can make choices and try different approaches to situations without being afraid of repercussions on a personal level (won't affect relationships with coworkers or a client), and mistakes won't affect their job status.
How can we get started with D&I learning?
(Back to top)

We've established that moving from simple diversity awareness to full behavior change is the goal, and this will only happen with the repeated practice and application of skills. Here are three steps to get started with designing a D&I learning initiative:

Step 1: Make it realistic.
Learning is most effective when it's applied in realistic situations. For D&I learning, be sure the learner is challenged with immersive, realistic scenarios that involve challenging viewpoints and emotional reactions from others. Making choices on behaviors in these types of scenarios Navigating these scenarios and getting feedback on the choices made will help cement behavior change.

Step 2: Make it interactive.
To truly develop skill, you can't do it passively. You must actively practice in realistic scenarios. Give the learner a chance to make decisions in the moment, in reaction to a comment or behavior of another person. This allows the learner to raise their confidence level on applying their skill when it matters most - in a real-world situation.

Step 3: Make the learner feel safe.
Learners need the freedom to "fail forward" - meaning they need experiences that let them try out different skills without the fear of paying a price for making mistakes. D&I learning programs should allow the learner to practice privately, free from personal embarrassment or other negative repercussions.
While following these steps, it's helpful to build scenarios relevant to your learners … and by doing that you make it realistic, interactive and pertinent to them. Put people leaders in situations where they have to manage direct reports. Create new-hire training where employees may need to challenge supervisors. The closer you can come to a real-world D&I challenge, the better.
What's the best way to measure results of D&I learning programs?
Why Measure?
The often quoted "you can't manage what you don't measure" from Peter Drucker holds true for D&I. Ultimately, our goals for a successful D&I initiative are to positively change behaviors within our organizations to be more inclusive, to be more open and accepting of diversity and to realize the many benefits of a diverse and inclusive workforce to deliver better business results. Therefore, it is crystal clear "why" we need to measure the results of our D&I initiatives. Yet many struggle to define "what" should be measured.
What should I measure in my learning program?
Assuming behavior change is at the core of our goal for D&I initiatives, what should organizations track and measure as leading and lagging indicators of successful behavior change?

According to the 2019 Diversity Value Index Benchmarking Report, employee engagement is the #1 metric being used to track impact of diversity initiatives: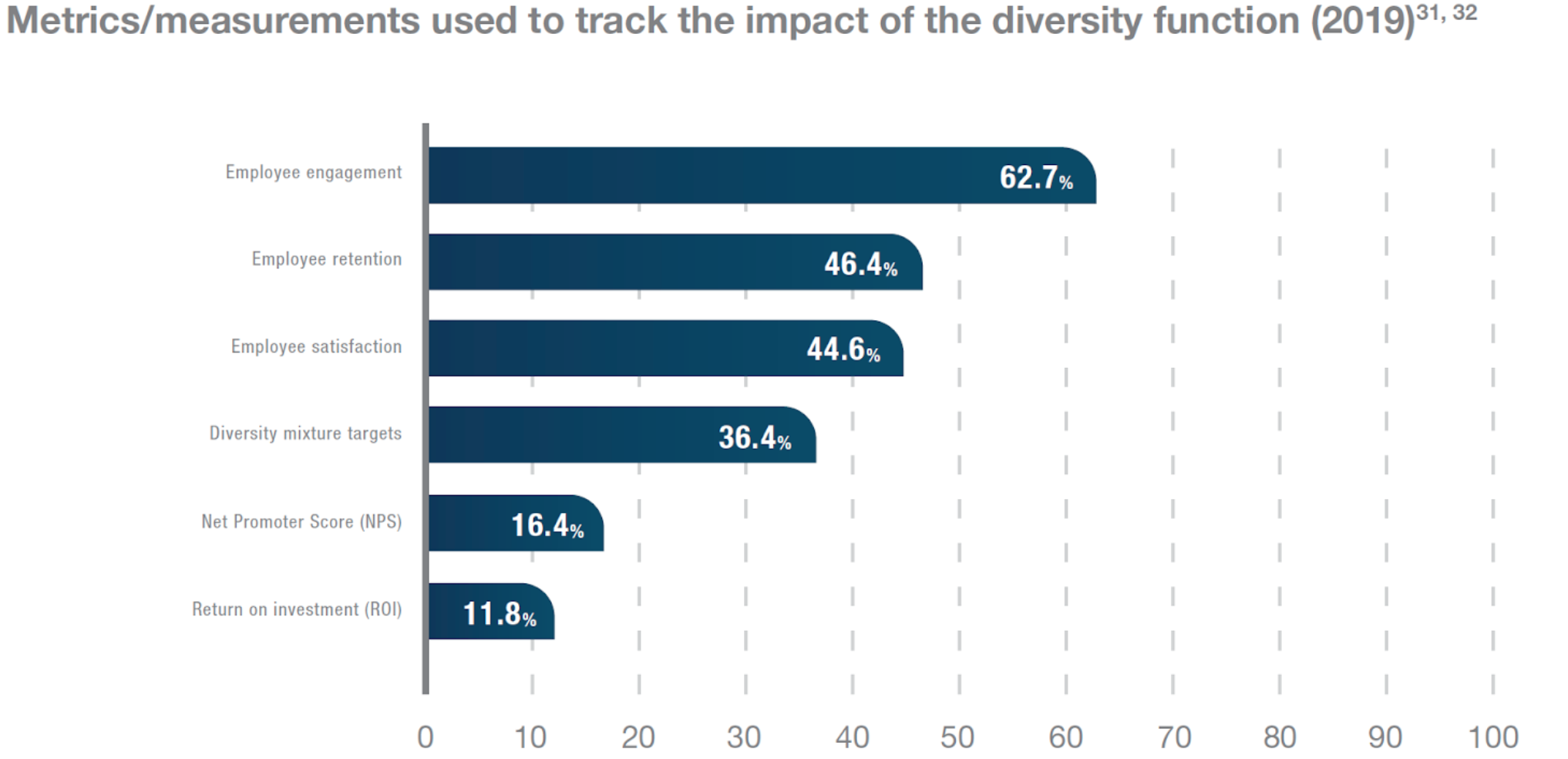 The challenge with using employee engagement or employee satisfaction as the "what" measures of success of our D&I initiatives is that they are multiple steps removed from actual D&I behaviors and do not paint a true picture of D&I culture in the organization. How do you isolate and measure the impact of your D&I initiatives on, for example, employee engagement when multiple factors contribute to it?

At ETU, we encourage our partners and challenge the status quo, to focus measurement on "causal" metrics, i.e. to measure the underlying behaviors causing the undesired or desired outcomes. Whether it's unconscious bias driving undesired behaviors, gaslighting creating a toxic work environment, or career progression based on relationship rather than merit, the solution should focus on measuring and changing the underlying behaviors.
How should I collect measurement data from my D&I learning programs?
Measuring behaviors in the workplace can be challenging as it traditionally involves observation of said behaviors by a trained I/O Psychologist. This, however, creates scale and objectivity challenges of its own.

Behavioral simulations enable a scalable, objective and repeatable way to accurately and precisely measure workplace behaviors. Immersed in realistic, job-relevant scenarios, the learner actively makes all decisions to drive the outcomes of the scenario. Each decision is tracked, measured and scored, automatically, using behavioral analysis formulas built into the simulation platform. Within the simulation, learners can practice decision making to rapidly develop skills and change behaviors, all informed by rich personalized performance analytics. This simulation-based solution can be delivered to 10'000's of learners simultaneously, delivering a globally scalable experience.

Aggregating data across individuals, teams, functions and the whole organization provides rich behavioral insights that inform talent and business decisions.
In addition, these precision behavioral insights can be linked to data points tracked by the organization such as:
Engagement scores by race, gender or other group

Incident reports

Diversity in hiring, diversity in promotions, diversity in team projects

Company-specific D&I KPIs

Velocity of career progression (length of time it takes to hire, promote and move up within the organization)

Succession plans for diverse employees

Percentage of diverse employees with sponsors and mentors
Once a measurement cadence is established, it's important to revisit it regularly. In the Diversity Value Index study, the rate of annual and quarterly reviews by the top-performing vanguard organizations was at least 10% higher than all organizations combined. These regular reviews allow organizations to reassess targets, set appropriate goals and foster a culture of continuous improvement and sustainable behavior change.