Discover how immersive behavioral learning simulations helped a leading investment bank mitigate risk, reduce seat time and generate $1 million in ROI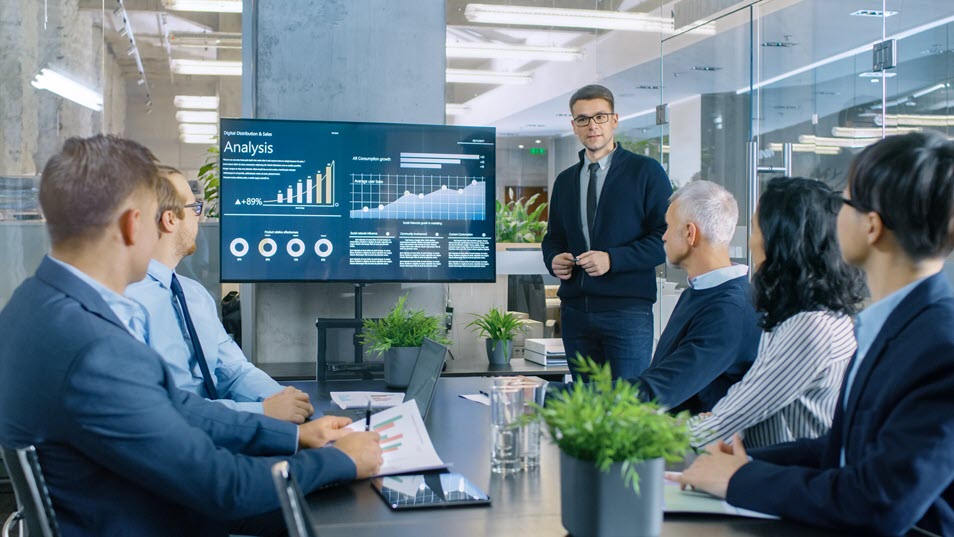 At a glance
L&D transformation in a global investment bank
Company
A large global investment bank
Goal
Significantly reduce risk and improve compliance, by transforming how employees understand and manage risk-related issues
Solution
ETU's immersive simulations deployed as both a diagnostic tool and as a personalized learning path
Results
Up to

200%

improvement in risk-related skills
50% reduction in errors in risk compliance

$1,000,000+ ROI

(direct and indirect operational cost savings)
50% reduction in time taken to create new simulations
66% reduction in average seat time
Reduced delivery timeframe for training 5,000 managers (from 2+ years to less than two months)
1. Challenges
The need for faster adoption to a fast changing business environment
Managing risk was always a high priority for this investment bank. However, constantly evolving regulations meant it needed a scalable and effective learning program to enable its business leaders to adapt faster to the changing environment. Before engaging ETU, the investment bank delivered a pilot Virtual Instructor Led Training (vILT) course for 1,000 managers. The challenges of this program were its high costs to build, run and scale, and with a course duration of 4hr 30 minutes, the estimated delivery date to the remaining 5,000 managers was too long at 2.25 years.
Learning executives within the bank made the decision to replace vILT with an immersive role play simulation created on the ETU behavioral learning platform
The goals were to dramatically reduce the amount of seat time it took to ensure that managers in the firm were aware of the risks inherent in their jobs, and their responsibility for managing it. It also included behavior profiling to enable managers to assess their ability to fully understand and manage risk.
If the first role play simulation proved successful, then a follow-up series was to be implemented. Phase two of the program, titled 'Effective Risk Management for Managers', involved the rapid build and delivery of a highly effective solution for assessing and training risk awareness and mitigation, across a targeted manager population of 16,000.
2. Solution
Learning solutions for real‑world challenges
ETU's behavioral learning and assessment simulations initially provided learners with the opportunity to assess their capabilities to manage risk in their job, and enhance their skills and behaviors to manage and mitigate the risks.
Three additional simulations were built for phase two in which managers needed to identify and manage risk in their daily workflow. As the skills and behaviors remained consistent across all simulations, the triangulation of behavioral measurement further enhanced the accuracy of the data and the firm's ability to measure and manage risk culture.
Through collaborative authoring using ETU's agile platform, all the simulations were rapidly and cost effectively designed, and built, with a 50% reduction in the time taken compared to industry benchmarks. The delivery time for training the global manager population was significantly reduced from 2+ years to just 2 months.
The solution supports ETU's unique Measure-Learn-Perform methodology, under which learners' skill levels are assessed first. If their skills do not meet the goals set by the firm, learners need to practice to master the skills. In this way the subsequent training is personalized to their skill levels, with a proportion able to test out in their first attempt, leading to massive reductions in seat times and improvements in learner satisfaction.
After practice learners are reassessed to ensure they have reached the goals set by the firm. By comparing benchmarked first attempts to passing attempts the firm better understands the effectiveness of the training material.
ETU's Unique Behavioral Analysis and Practice
In addition to saving time and money, ETU's immersive simulations and behavioral assessment technology provide insight on how L&D can more efficiently and effectively deploy their training resources and target specific skill gaps to significantly improve employee behaviors and performance.
Realistic practice
Learners whose scores fall below the passing benchmark in Task Mode are prompted to complete simulations in Practice Mode and then to retake the Task Mode assessment. See Figure 1 which illustrates ETUs assess, practice, assess methodology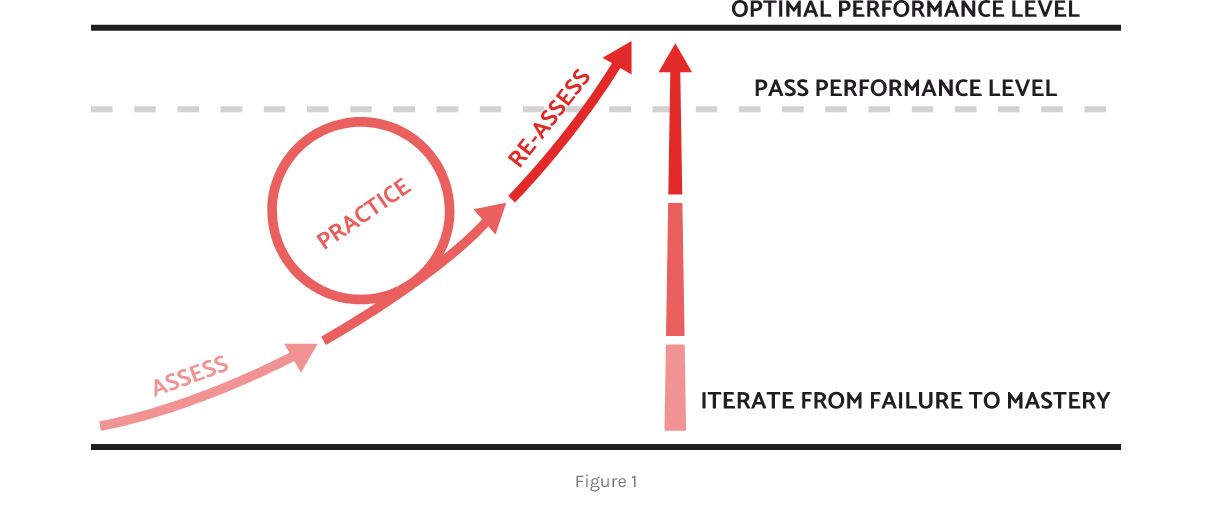 The simulations delivered up to 200% improvement in skill level scores, and errors reduced by up to 50%. See figure 2 below.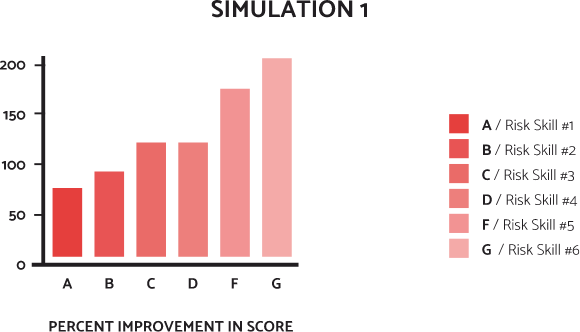 Real-time behavioral analytics
Precision measurement of skills and behaviors enables the firm to pinpoint how to fix issues, thus providing tangible bottom line value-add.
Performance data
Each simulation incorporates automated granular tracking of all decisions, skills and behaviors. This tracking yields rich, insightful data including:
Performance by skill: Decisions are scored, resulting in individual-level scores for each targeted skill within a simulation. These scores are benchmarked against pass rates set internally. Scores falling below the pass rate benchmark are prompted to take additional practice, leading to improved performance.
Mistake rates by skill: Learners' strengths and weaknesses in performance across a range of risk-related skills are identified. These mistakes are corrected through further simulation practice, leading to improved performance.
Time per decision: Decision points with unusually long response times are highlighted, indicating potential problem areas within a simulation to be targeted with further learning.
"Have been with the bank for over 33 years and this was the best training course ever!"
3. results
Benefits & results
$1 million

ROI

direct and indirect operational
cost savings
50%

faster builds

reduction in time taken to create new simulations, compared with industry benchmarks
92%

faster delivery

delivery time for training 5000 managers reduced from 2.25 years to less than two months
66%

lower seat time

reduction in average seat time from a combined 4hr 30 minutes (vILT) to 1hr 30 minutes
Increase in Learner Satisfaction
Never before seen user satisfaction rates, up to 82%, compared to previous eLearning averages of 58%
Participation: this project was so successful that the global targeted manager population of 5,000 was expanded to all 16,000 members of the manager team.
Increased Effectiveness
Detailed risk behaviors trends: The simulation delivered in depth analytics on learner performance and behaviors.
Risk behaviors hotspots: Targeted analytics identified and verified several key risk-related behaviors. This data will inform future training and assessment provisions.
Significant skills improvements: 50% to 200% improvement in capabilities across skills.
No cultural bias: Crucially, there was no cultural bias observed across the global targeted manager population of 5,000.