ETU and Merck selected as finalists for LTEN award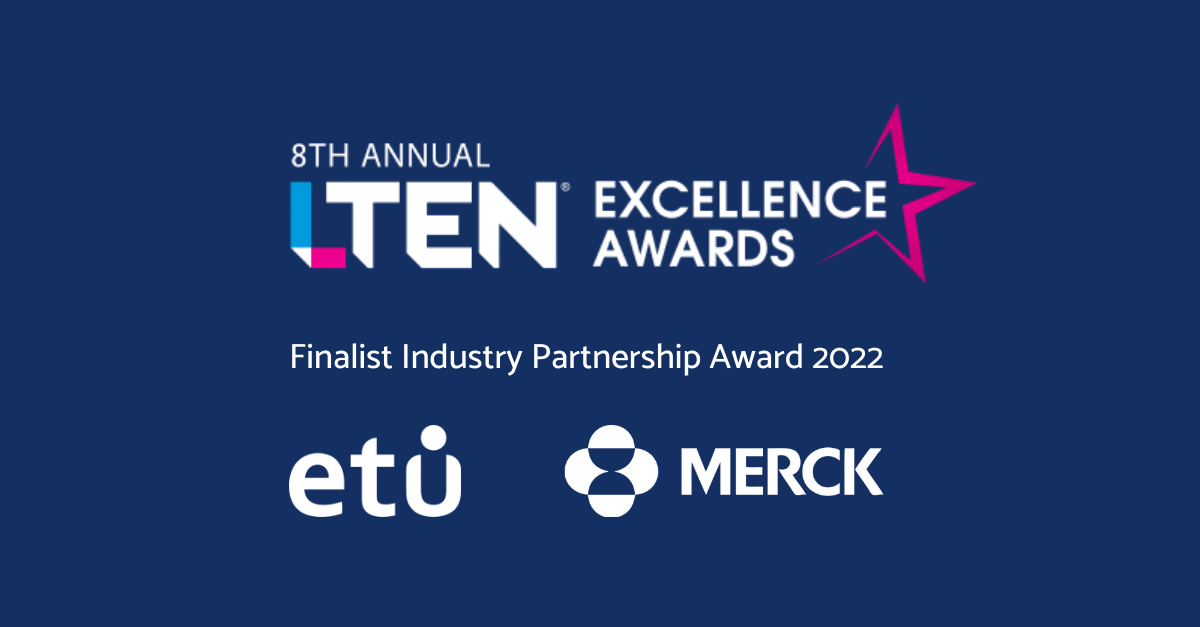 The Life Sciences Trainers & Educators Network (LTEN) today announced the selection of ETU and Merck as finalists for their 8th Annual Excellence Awards. The Industry Partnership award recognizes suppliers for their work in support of an organization's learning and development function in the past year.
The selection spotlights the Reimagined Mandatory Training program at Merck, a program that improves engagement and focuses on behavior change through innovation in learning. The partnership centers around the effective building of compliance IQ to empower Merck workforce to make compliant decisions daily.
The innovation partnership is structured in a true agile fashion where rapid projects built on the ETU Learning Simulation Platform yields valuable data to support a cycle of innovation. The platform immerses the learner in realistic situations to measure compliance IQ at scale and develops skills through a Measure > Learn > Perform cycle.
The Merck-ETU partnership team puts learners at the center of what they do. The learner drives the immersive experiences, and the result has been a 30%+ improvement in engagement over traditional elearning. The immersive learning method helps change perceptions of compliance training from a "tick-the-box" exercise to one that is focused on the right behaviors. The behavioral results are objective and data driven, providing strong evidence that this investment in learning will directly contribute to risk mitigation.
"ETU is delighted to provide critical support to Merck for this strategic initiative and we applaud the Global Learning & Development Team for their vision with the program. We would also like to congratulate all nominees for the quality of their contributions to life sciences learning," said Sowmya Sudhindranath, Chief Services Officer at ETU.
The 8th Annual LTEN Excellence Awards recognizes innovative and inspiring work done by life sciences training professionals at pharmaceutical, biotechnology, medical device and diagnostics companies and by training industry partner companies. The LTEN Excellence Award winners will be announced in a special ceremony on June 15, part of the 51st LTEN Annual Conference. The awards ceremony will also be webcast for those LTEN members who can't attend live. For more information please visit the LTEN awards announcement.