ETU takes triple gold at Brandon Hall technology awards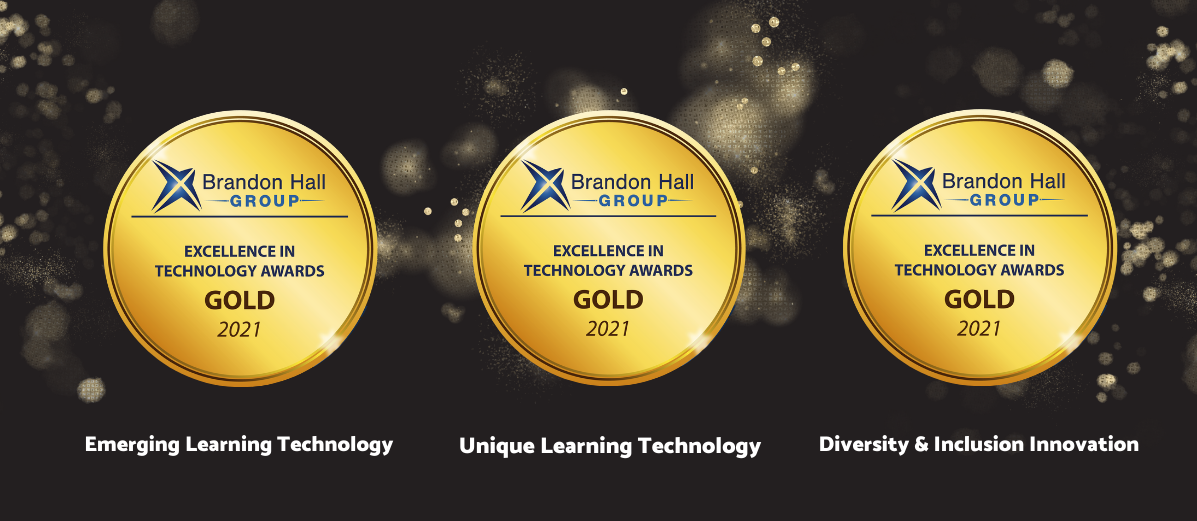 ETU, the market leader in learning simulation technology, won 3 coveted Brandon Hall Group gold awards for excellence, and 1 bronze award. The awards were won jointly with ETU's client Merck & Co., Inc. (Merck), and were announced on a live webcast on December 9, 2021.

"As a pioneer in immersive simulation, ETU has innovation at its core. What is exciting about these awards is the focus on impact, the measurable results that can be achieved by partnering with like minded L&D innovators. We are honored to be recognized with Merck for the impact immersive learning is making in upskilling."

Declan Dagger, ETU - COO

Learning and development awards


The awards were received for immersive simulation projects at Merck. They spanned risk mitigation skills within Merck's biotech operations and soft skills within their global support services. The awards recognize how immersive simulation technology allowed rapid deployment, precise measurement of upskilling and clear business impact.

Best advance in emerging learning technology
The advancement in the emerging area of immersive simulations was used to onboard critical skills. New employees were onboarded 15 times faster than traditional classroom learning. Simulation enables learners to make mistakes and learn from them without negatively impacting the business.

Best advance in unique learning technology
The advancement brought objective assessment of skills that was not possible in the past. Skills assessment is typically difficult and time consuming. Traditionally L&D functions have to rely on self-assessments, periodic reviews or knowledge tests. Now there is an objective way to measure proficiency and identify skill gaps.

Best advance in gaming or simulation technology

The advancement brought personalized coaching in the flow of simulated work. Where learners make incorrect decisions, the digital coach intervenes to provide real-time feedback. The measure-learn-perform methodology allows learners to reach an optimum performance level. An average 41% improvement in key soft skills was seen in the primary audience.


Future of work awards

Company culture is a key driver of the employee experience. Improving critical Diversity and Inclusion (D&I) behaviors leads to an improvement in overall culture and impacts key organizational D&I goals. External research has shown the need to experience and practice diverse thinking and inclusive behaviors as being paramount to driving behaviors and cultural change. Immersive simulation moves beyond awareness training and into practice and application of key skills to activate behavior change within the workforce.
Best advance in diversity and inclusion innovation
The advancement in immersive simulation allowed employees to practice diverse thinking and inclusive behaviors in realistic scenarios. Experiential roleplay provided challenging D&I scenarios in a safe environment that enabled people to learn from repeated application of skills. Stakeholders now have objective data to prioritize future D&I initiatives.
For more information on the results of Immersive Simulation at Merck please see this recording from CLO panel discussion on simulation effectiveness.
About the Brandon Hall Group excellence awards
The Excellence Awards feature two annual programs that recognize the best organizations that have successfully deployed programs, strategies, modalities, processes, systems, and tools that have achieved measurable results. The awards attract entrants from leading corporations around the world.

"HCM solution providers must be experts and visionaries in technology, but they also must have the ability to anticipate the diverse needs of employers as they work to adapt to ongoing change. This requires a blend of curiosity, empathy and agility that is difficult to achieve. We have seen an extraordinary level of insight and creativity from our Excellence in Technology winners that has been exciting to see."

Mike Cooke, Brandon Hall Group - CEO
A panel of veteran, independent senior industry experts, and Brandon Hall Group senior analysts and executives evaluated the Technology Award entries based upon the following criteria:
Product: What was the product's breakthrough innovation?
Unique differentiators: What makes the product unique and how does it differ from any competing products?
Value proposition: What problem does the product solve and/or what need does this product address?
Measurable results: What are the benefits customers can expect to experience as a result of using this product?
The winners are listed at excellenceawards.brandonhall.com/winners.