New interaction types and advanced skill assessment with ETU's LSP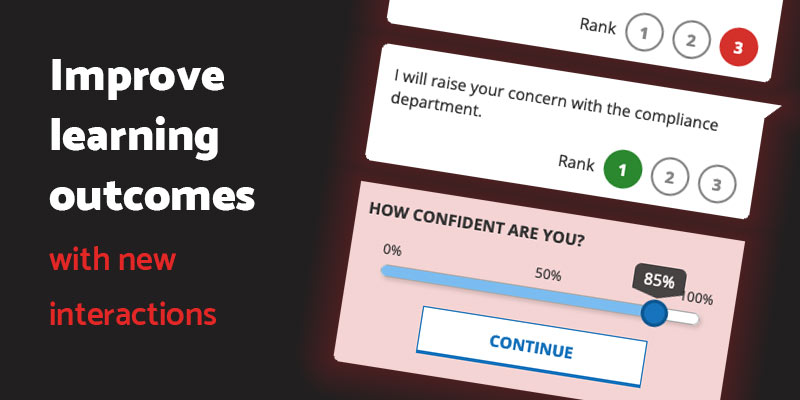 Using ETU's LSP to develop a metacognition strategy and improve learning outcomes. Gather additional learner insights with new decision confidence and decision ranking interaction types.
Learning architects and designers are looking to improve learning outcomes and retention. New interaction types from ETU will foster greater learner metacognition that improves learning and on-the-job performance. The latest enhancements will be made available to clients as part of the Learning Simulation Platform (LSP) beta program and can be included in new simulation designs.

Need to prove mastery to award badges or advance learners to a new stage in their learning development? You can now ask learners to rate their confidence in the choices they make during ETU simulations. Through the latest data analytics generated by this feature, you will see where learners are simply guessing instead of making confident decisions. This will give you and your business stakeholders factual data to show where your training is making an impact.

The beta program is about expanding the range of learning design options for our clients. With the new interaction types, you can encourage learners to consider their decisions more deeply. This forced reflection allows them to process their learning better and encourages higher-order thinking such as analysis and evaluation. The new interactions can be turned on or off depending on the program or learning cohort.
"These latest enhancements will provide new options to learning architects and designers and ensure our immersive simulation platform meets new use cases. Later releases this year will build on this theme, providing even more learner interaction types in the platform," said Conor Gaffney, Chief Product Officer at ETU.
The two new interaction types are:
Decision Confidence
Unfortunately, people are notoriously bad at self-evaluation. Learners with a small amount of training are highly prone to overestimate their abilities: organizational psychologists refer to this as the Dunning-Kruger effect. Now you can measure the gap between actual performance and self-rated performance on a per decision and skill basis. Importantly, you can identify high-risk areas where some basic training may be supporting overconfidence, hindering mastery, or leaving the business open to high levels of risk.

The confidence level is an expression by the learner of their confidence that the decision they are making is optimal, and as such, is made before the learner makes the final decision. This will add a new level of understanding of the learner's current capability and in particular, their confidence level in the decision they are making. This data will allow you to distinguish better the truly high performers who demonstrate skill mastery.
Figure 1 - mockup of decision confidence in use.
Decision Ranking
This new interaction type asks the learner to rank all available decision options rather than just select the best one. It will encourage a greater evaluation and consideration of the consequences of poor decisions improving learning.

This will add a new level of understanding of the learner's current capability and in particular, their confidence level in ranking the decision options in the order they would make them. The ranking is an expression by the learner of the order they would select decisions from the first choice to last, putting their choice as the most optimal 'first' down to their least favored.


Figure 2 - mockup of decision ranking in use.
Both decision ranking and decision confidence can be combined to support even greater learner reflection and capture additional skills insights as part of a learner metacognition strategy. These additional interaction types will allow more varied simulation experiences for learners to further combat learner fatigue.

To learn more about these features or to join the Beta program, please speak with your Account Manager.