Immersive simulations drive performance in a new digitized world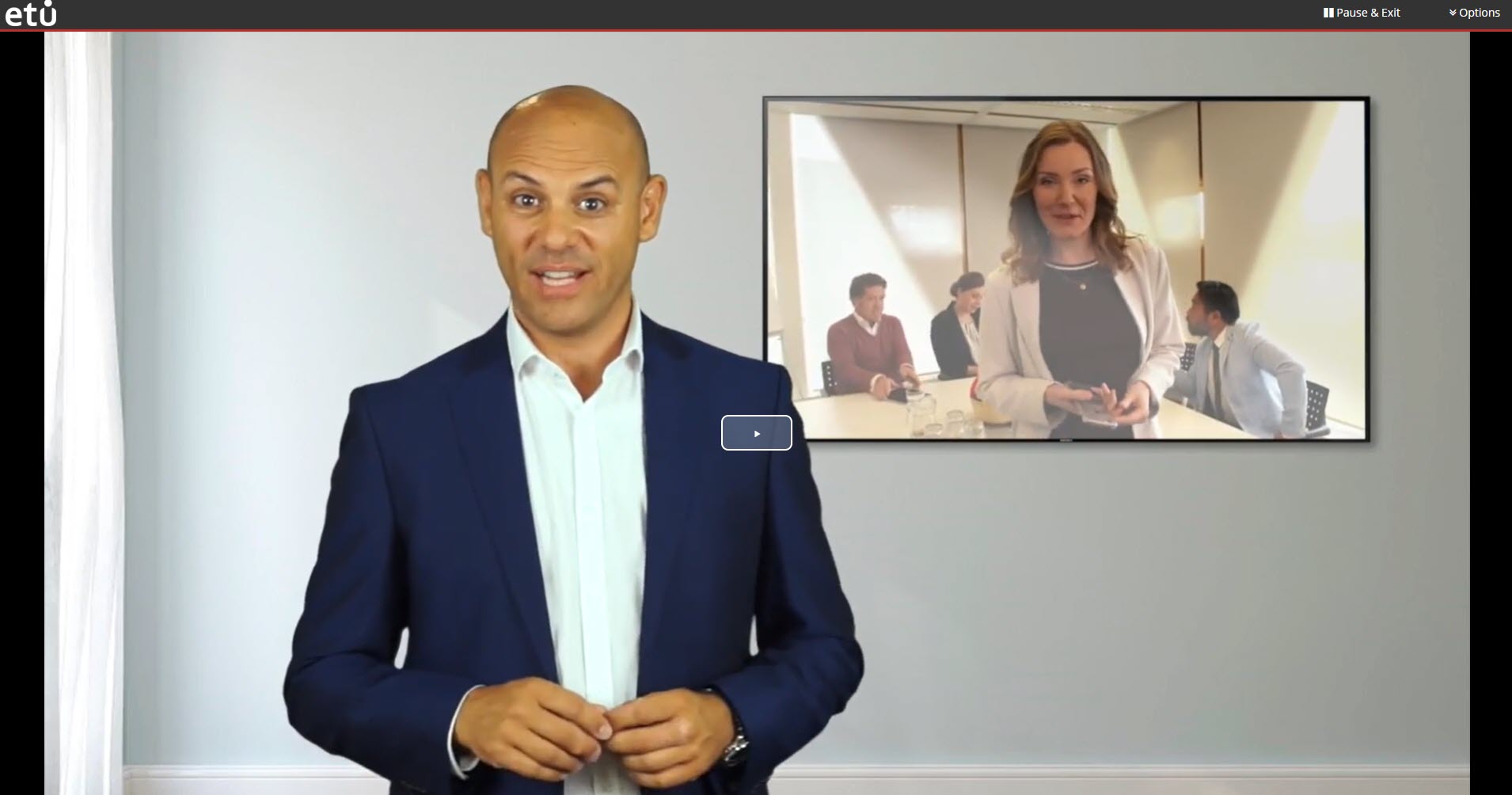 The world has changed, and we can all feel it in how we live, where we work, and how we perform on the job. The transition to a virtual work environment is not new. A recent global workplace survey (published before the pandemic) by IWG indicates that 75% of respondents believe that working virtually is the new normal, and half of global employees are working outside the office headquarters 2.5 days per week1. The change to a virtual world was already underway. Covid-19 simply accelerated the process. Now, more than two months into a forced virtual work world, businesses still face the choice of what is best for profits and people.
The pandemic substantially changed L&D operations and the way employees learn. Travel restrictions and quarantining caused businesses to cancel instructor-led learning and forego conferences2. As the workforce transitioned from offices to homes, L&D departments scrambled to convert in-person classroom content to self-paced and virtual instructor-led courses. Some content transferred well. Other content suffered.
A more influential change
A much more influential wave of change is also impacting the way we work. Though it is happening more slowly than Covid-19, it is more powerful. It is the tide rather than just a wave. Technology transformation is disrupting the flow of work. Robotics transformed (and continues to transform) the manufacturing industry; it is also displacing millions of workers globally by transforming supply chains3. Automation is disrupting and replacing customer support, retail and marketing. Artificial intelligence and machine learning process data in microseconds and make reliable recommendations. Health imaging AI from Google more accurately diagnoses radiographic mammograms, reducing false positives compared to radiologists4. This is one example of a complex and highly skilled role that is now threatened.
Job roles with repeatable manual tasks are waning. A McKinsey study concluded that 49% of tasks that people are paid to do can be automated5. These roles are at risk. The study did have a bright side for people. Human centric skills like creativity, adaptability, and critical thinking are increasing. Roles least at risk are those with high degrees of soft skills like managing and developing people.
The digital transformation of jobs highlights the drastic need to reskill people, moving away from developing technical skills and toward developing soft skills. To stay ahead of the curve, companies should begin developing skills in the workforce that are not yet threatened by the advancement of technology. If this can be done by leveraging technology to rapidly assist in the change, it can transform the workforce at scale providing new capabilities with efficiency.
CEOs and business leaders see and feel this daily, however, most are underprepared to respond. They need to build the capabilities (skills and behaviors) required to be successful in this new work environment such as flexibility, agility, resilience, human centered design, and data-driven decision making. Like any type of significant global disruption, there comes immense opportunity for companies that can get ahead of the change and turn it to their advantage by pivoting to prepare for something new. Many organizations are not prepared to turn change into opportunity.
Despite the changed world, the expectations for L&D from business leaders are remarkably the same: close skill gaps in the current workforce, build competencies to achieve business goals and do it more cost-effectively than hiring the skills outright.
In the light of these expectations, did the conversion from ILT to digitized content go well during the pandemic? Of course not, but for many, the conversion is complete. Check the box and move forward. In times of crisis, small wins matter. Now, L&D is tasked with reviewing and revising content to make it more effective at building knowledge, skills and behaviors to meet business goals.
Why simulations?
One sophisticated technology that is growing in prevalence and importance is simulation technology. We're seeing it used more and more, especially as the move to digitize learning spikes. When used in a learning environment, simulations accomplish several things. When used as a diagnostic tool, simulations reduce seat time. ETU deploys a measurement first approach. Learners who know the content test out. For a recent client this approach allowed 37% of learners to test out reducing learner frustration and saving millions of training dollars.
Simulations also reduce scrap learning--learning that is gained during training but is never applied back on the job. Because courses are aligned to the business needs and because simulations allow for as much or as little practice as needed, learners hone the skills they need, not the ones they don't.
Alignment ensures that simulations are performance based. Then the immersive approach engages learners in the storyline. As they perform during decision points, learners demonstrate their knowledge and skills in life-like situations.
Finally, simulations can easily demonstrate value and impact because measurement is baked in. Each time a learner makes a decision, that action is scored. At the end of the simulation, the learner receives a summary for each topic as well as an opportunity to practice areas that need improvement. Aggregated scores allow program managers to monitor learner success at a group level and make adjustments to the course as needed. Aggregate results also keep stakeholders informed as the workforce builds capabilities to meet business needs. Because the course and the decisions are aligned to the job, learners who pass the course demonstrate they can perform similar work on the job.
Simulations in the new digitized world
The world has changed and may never return to what was once considered normal. Yet, businesses still need to achieve goals and can only do so with a skilled workforce.
Simulations can be a sensible and efficient solution that allows organizations to:
Engage employees in a rich learning environment that requires their active participation
Create employee-centric learning experiences that avoid redundant training and focus on individual learning needs; save time and costs as well
Provide consistent, high quality learning products that scale around the globe on multiple devices
Create a safe environment for employees to learn, practice, and demonstrate their skills
Demonstrate value to stakeholders by embedding measurement in the learning process; provide feedback to learners and track the capabilities of the workforce.
The world has changed, and it is time for L&D to adapt so businesses will survive and thrive in a new digital world.
References:
1 IWG Global Workplace Survey 2019
2 Brandon Hall Research (2020). HR and The Impact of COVID-19 (Research Data Highlights)

3 BBC News: Robots 'to replace up to 20 million factory jobs' by 2030
4 TIME: Google's AI Bested Doctors in Detecting Breast Cancer in Mammograms