ETU receives Excellence in Partnership award at the 2023 CLO LIP Ceremony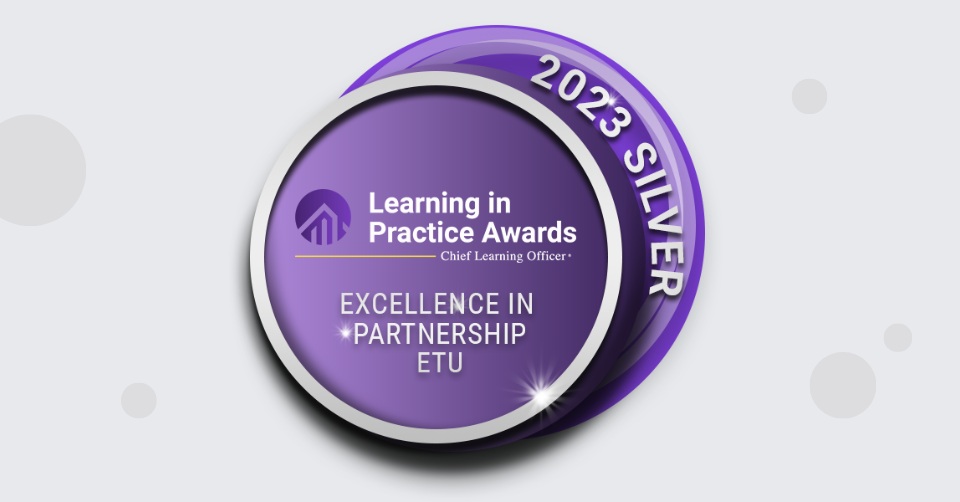 Excellence in Partnership
Chief Learning Officer has awarded ETU a 2023 Learning in Practice award for Excellence in Partnership. This category recognizes vendors who have effectively supported a client's learning and development function to set strategy or establish or implement a program.
"Our customer needed new learning methods that could be integrated into existing programs at different key moments. A key challenge was finding a diagnostic tool for human skills, one that could measure employees' ability to apply human skills in a realistic business context. Providing a reliable form of skills assessment at scale is key to skills intelligence," said Katie Laidlaw, CEO at ETU. "We are honored to accept this award based on the dedication and vision of the team that partnered on this long term program."
Trusted skills data at scale
ETU partnered with a global organization to transform its approach to skills data. Across the organization, we've become a trusted data source about their employee learners. The data has helped in three main ways: measuring skills, fine-tuning learning initiatives, and credentializing learners.
Measure skills at scale
From onboarding programs to inclusivity to cross-cultural initiatives, our customer is measuring the application of human skills consistently. We work closely with the learning team's psychometrician on the advanced skills data and its triangulation with demographic data for additional insight.

Credentialize learners
ETU partnered on 'skill' badges. While badges based on knowledge-assessment had been used for some time, this was the first program to award a skill badge. Since then, the scheme has been extended to award human skill badges in additional areas. ETU simulations are a critical component in the pass/fail measurement of skill assessments.

Fine-tune strategic initiatives
ETU skills intelligence is needed not only to evaluate learning impact but also to verify that learners have the skills needed to succeed at various levels across the organization. Over the partnership, our customer has been able to correlate skills data to observable behavior. The additional validation means that the ETU data has high levels of trust across the organization and can be relied upon for decision-making.
Advanced data analytics enable the client's L&D team to analyze the employees' personalized learning paths to determine what leads to accelerated pass rates. The client now has the data to critically evaluate its wider content inventory.
About the Learning in Practice Awards
Chief Learning Officer's Learning in Practice Awards are presented annually to practitioners and providers in recognition of excellence in learning and employee development. Gold, silver and bronze awards are awarded in two broad classes.
"Learning functions, talent, workplace cultures, priorities – it's all changing, modernizing. And it's truly inspirational to see the creativity and dexterity these individuals have used to craft their employee development programs, proving their impact on a business," said Ashley St. John, chief content officer and editor in chief for Chief Learning Officer.