Discover how ETUs immersive, behavioral learning & measurement simulations are transforming a major consulting firm in our leadership development training case study.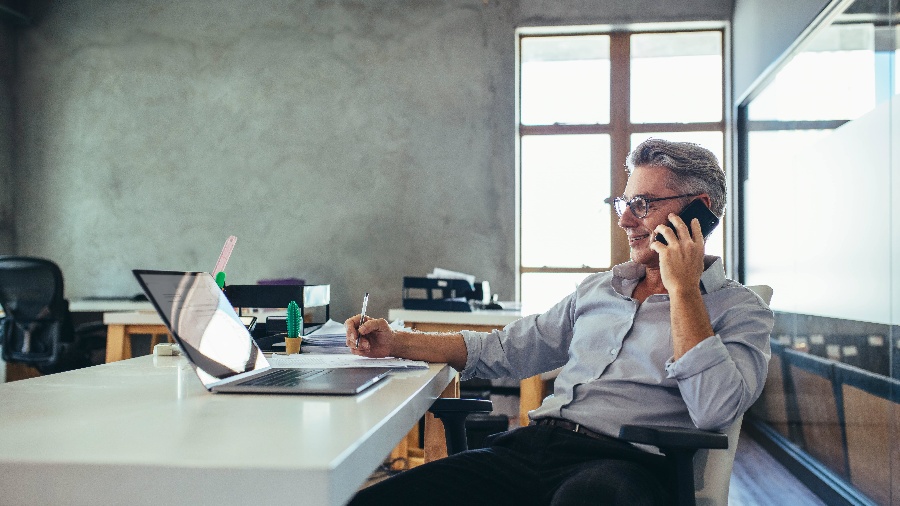 At a glance
Transformation of learning
Company
A large global consultancy firm
Goal
Digitally upskill a population of 45,000 employees
Solution
ETU's immersive simulations deployed to deliver pre-training skill diagnosis, personalized learning paths, and post-training assessment
Results
Over

32,000

completion "badges" awarded to learners thus far

99%

of learners successfully applying new skills at completion
Average of

37%

of employees "test-out" of process via up-front assessment

45,000+

hours of projected saved seat time
1. Challenges
The urgent acceleration of digital transformation
As organizations accelerate digital transformation to stay relevant and compete globally, they face an immense challenge. To be successful they need to rapidly shift culture and upskill their people to be confident, competent and excel in this rapidly changing world.

Sponsored by the firm's chairman, this global consultancy firm developed a comprehensive workforce upskilling strategy to build the "digital fitness" of its people, equipping them with the key soft skills critical for success today. The strategy focuses on competencies such as agile working, design thinking and data-driven decision making.
Thanks to ETU's behavioral learning simulations and assessment platform, 45,000 employees will be enabled to improve their skills and abilities through personalized learning.
Ultimately, thousands of the firm's employees will earn a highly valued digital accreditation.
The company already had a core digital learning program in place that contained 100 minutes of course material. However, with 45,000 people to train, the implicated costs associated in terms of seat time and loss of productivity were deemed prohibitive.

This original approach was based on first-gen eLearning technology and a complex knowledge matrix, but the assessment proved too difficult for employees to complete, and was too technically challenging to rollout at scale.
2. Solution
A diagnostic-driven solution
Enabling its people to outperform in the market was business-critical, and so a new solution was required. With a strong track record of delivering game-changing immersive learning and assessment simulations in other areas of this global enterprise, ETU was engaged to provide an alternative solution: diagnostic-driven simulations. To implement the plan, ETU followed our Measure-Learn-Perform model.
The diagnostic-driven simulations employ a unique behavioral design methodology, combined with proprietary simulation and data analytics tools. ETU and the firm collaborated to build three immersive diagnostic digital skills simulations and three assessment simulations in just a few weeks. The simulations were delivered at scale to objectively verify skills, greatly reduce seat time and improve learning outcomes.
Following the ETU Measure-Learn-Perform methodology, pre-training diagnostic simulations are taken by all employees, allowing a proportion of learners who meet predefined skill levels to test out, gaining their accreditation without needing to complete the course.
Based on precision measurement of how people apply knowledge rather than simply retain it, ETU's diagnostic simulations enabled a highly efficient and effective way of defining employee proficiency in relevant domain areas.
The up-front assessment of already proficient employees enabled the organization to significantly reduce seat time and free up these people to focus on core revenue generating business activities. ETU's enterprise-grade global cloud infrastructure and superior security capabilities enabled a seamless and successful delivery, reducing time to deployment and providing the ability to scale globally. Data analytics are enabling the client's L&D team to analyze the employees' personalized learning paths to determine what leads to accelerated pass rates.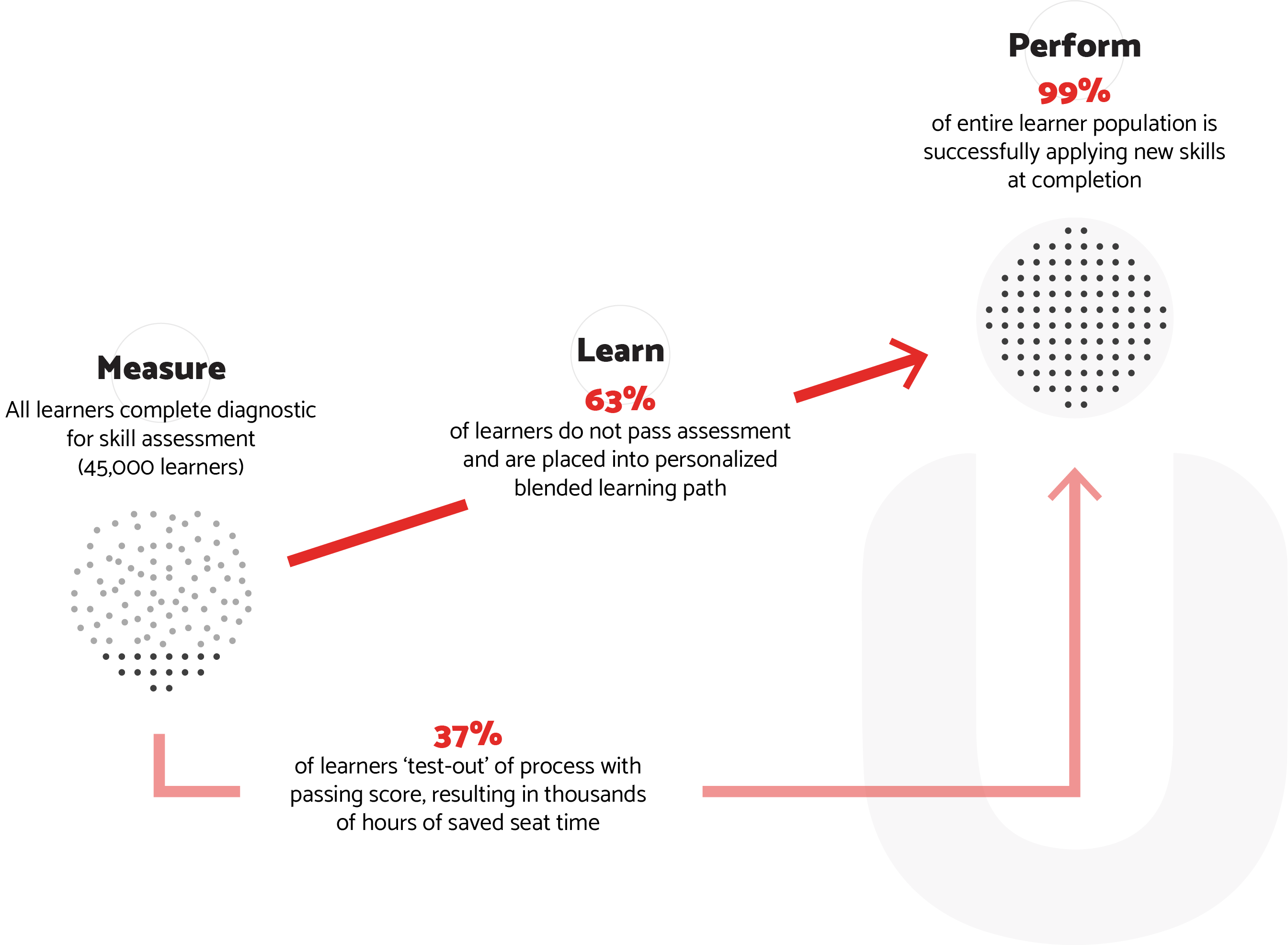 3. results
Benefits & results
To date, 32,000 of the 45,000 target employees have successfully completed the program with the remaining 30,000 due to complete later this year.
Six domain-specific diagnostic and assessment simulations were designed, built, deployed and scaled successfully in a 10 week period.
50%

build time reduction

15 hours of scalable, simulated time
created 50% faster than
industry benchmarks
37%

avg test out rate

~16,650 employees per simulation
saved seat time and re-deployed
for billable work
45,000+

hours

seat time savings projected
over the first year