Discover how rapid digitization of learning in our corporate leadership development programs case study delivered $20m in ROI for a global consultancy firm.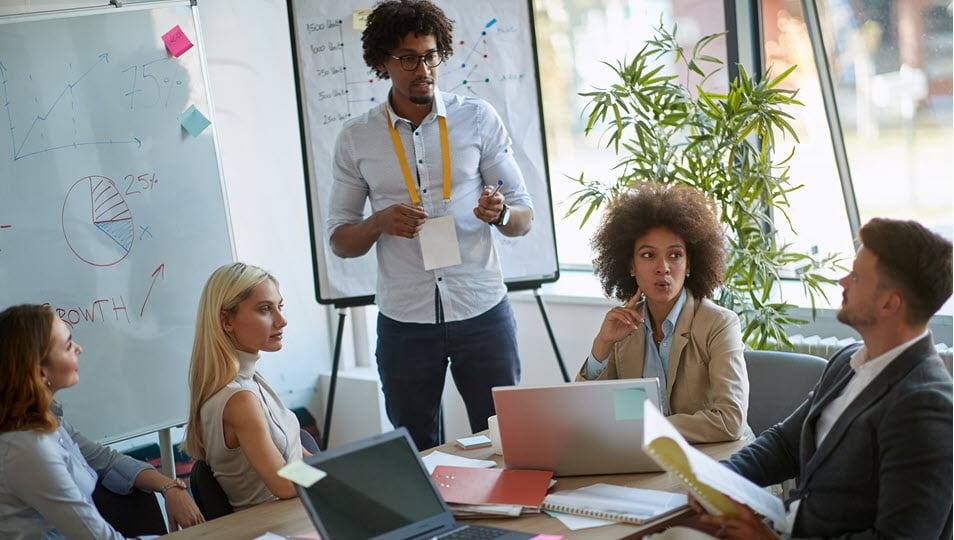 At a glance
Futureproofing of learning
Company
Large global consulting firm
Goal
Cost-effectively transform learning & development delivery to keep pace with the changing needs of a global workforce
Solution
Digitize 500 hours of face-to-face training, with ETU's immersive simulation & analytics platform
Results
Average rating of 4.5 out of 5 on learning relevance and value
Improved employee engagement scores
Projected savings of $20m a year in L&D delivery
50% reduced simulation build times compared with industry benchmarks
1. Challenges
The urgent need to align L&D to business goals
The world is changing fast, creating a growing need for more effective learning & development solutions, designed to deliver on business goals and alignment. Even before the current global health crisis, this 'big four' consulting firm realized it would need to transform the way it delivered in-house training if it was to keep pace with the developing learning and development requirements of its distributed workforce.
Traditional methods, including face-to-face instructor-led training (ILT), were too costly, time-consuming and impossible to scale for this global consultancy. They needed to adapt to a digitally transformative L&D process and delivery to ensure the business not only survived, but thrived in the future.
2. Solution
A digitally transformed solution
The firm's global talent team partnered with ETU to "virtualize" over 500 hours of classroom- based ILT. As part of the virtualization project, the consulting firm also wanted to accomplish the following goals:
Strengthen the development of skills and change behaviors across its workforce through simulated practice
Reduce classroom training seat time and costs
Reduce administration and operational training costs
This was achieved by creating blended virtual solutions that include eLearning, VILT, and over 20 focused, scenario-based simulations. Altogether the simulations provided more than ten hours of learning content. Learning cohorts across the various projects ranged from new-hires up to senior management and from generalist information to niche parts of the business. Specific simulations were built to serve the following areas:
Change management for senior leaders
This focused on the communication and leadership soft skills required to drive change in a large organization


Cybersecurity and emergent threats
This simulation challenged new members of the cybersecurity team to engage in an end-to-end cybersecurity transformation for a new client who imposes a number of obstacles


Developing the mindset for accounting advisory services
In this simulation, learners met compliance requirements and drove efficiencies for a client during an acquisition


Agile methodologies and software development
This simulation focused on flexibility within best practice guidance to deliver maximum value


Foundations of consultative selling for new hires
This simulation provided onboarding training for those new to the business


In a typical blended scenario for example, one business unit created eight hours of digital content altogether, 60 minutes of which were ETU simulations. The simulations were deployed as a series of micro learnings to reinforce learning at strategic points in the process. The learner journey across the content looked like this:

In addition to collaborating with the firm on the design and build of the simulations, ETU also provided support in the following ways:
The onboarding of subject matter experts and other stakeholders (over 50 across the various projects)
The tailoring of effective, flexible, and convenient ways for SME reviews and sign-off based on specific project requirements. This included one to one engagement where required and reviewer functionality was built into the ETU platform which allowed for global engagement from relevant stakeholders.
3. results
Benefits & results
Feedback from the program has been incredibly positive with learners and stakeholders finding the learning experience more exciting and immersive than other modules. Additionally, ETU's agile approach to the many projects being completed for multiple business lines was praised as an ideal model for working with vendors.
4.5 out of 5

average rating

average rating of 4.5 out of 5
on learning relevance and value
Improved

employee engagement

scores
50%

faster builds

The ETU simulation builder platform facilitates substantially reduced build times. For this client, ten hours of simulation content was built over 50% faster than industry benchmarks.
$20mil

annual L&D savings

Simulations offered value by greatly reducing the cost of training and assessment when compared to ILT. As the firm rolls out the program globally, it has projected annual savings of up to $20 million from reduced seat time, improved resource allocation, and eliminating the need for travel.