October 03, 2022
ETU News
ETU selected as Experiential Learning Technologies Top 20 Company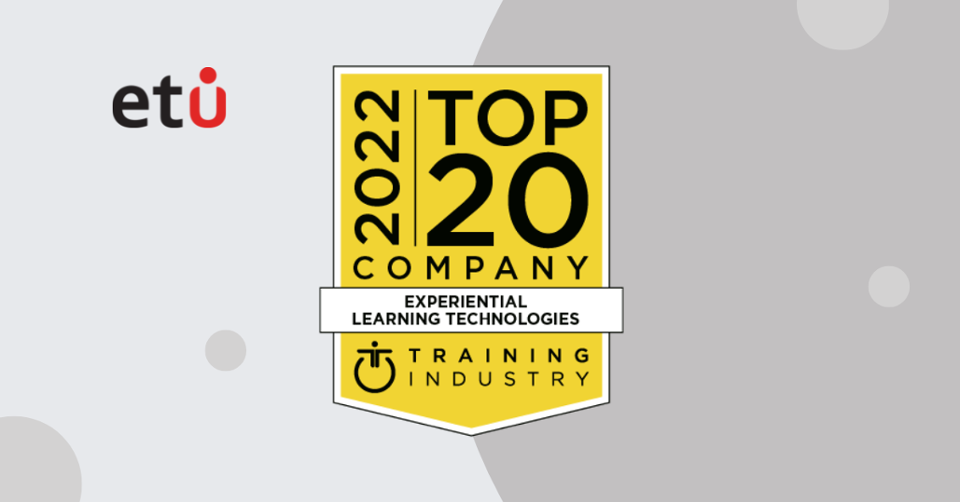 ETU has been selected as a 2022 Experiential Learning Technologies Top 20 Company. Training Industry today announced its selections for the 2022 Top Training Companies™ lists for the Experiential Learning Technologies sector of the corporate learning and development (L&D) market. Training Industry, the leading research and information resource for corporate learning leaders, prepares the Training Industry Top 20 report on critical sectors of the corporate training marketplace to better inform professionals about the best and most innovative providers of training services and technologies.
Selection to the 2022 Training Industry Top Experiential Learning Technologies Companies lists was based on the following criteria:
Breadth, quality and advancement of features, capabilities and analytics.
Industry visibility, innovation and impact in the learning technologies training market.
Client and user representation.
Business performance and growth.
"This year's Top 20 Experiential Learning Technologies Companies offer advanced techniques to create an immersive experience for their learners," said Jessica Schue, market research analyst at Training Industry, Inc. "Leveraging innovative technologies, these organizations were able to create a more hands-on learning environment with solutions such as augmented and virtual reality (AR/VR), simulations, serious gaming, artificial intelligence and more. With these experiential technologies, these companies are able to captivate their learners and improve retention, all while making corporate learning exciting."
To view all 2022 Training Industry Top Experiential Learning Technologies Companies, click here.