Immersive simulations get personal with ETU's platform release 22.1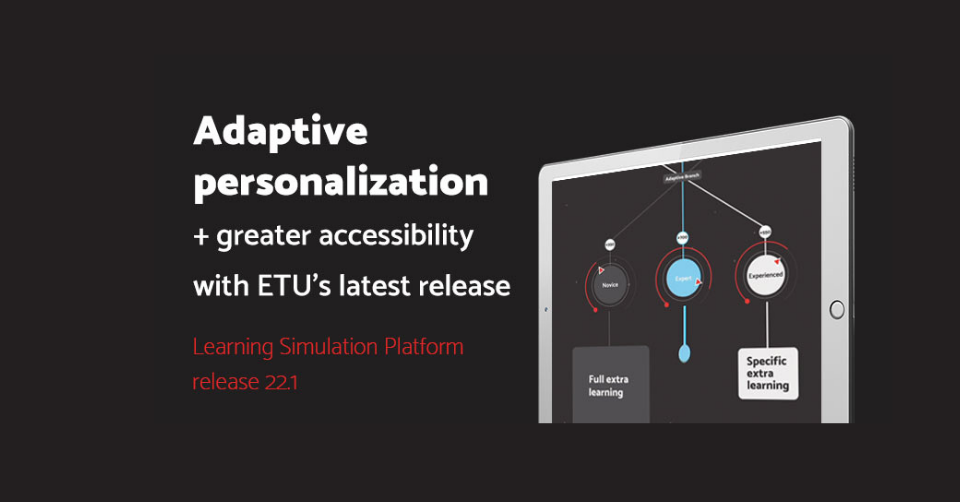 With the latest Learning Simulation Platform (LSP) release, clients can now deploy more personalized learning programs and automatically optimize the time to performance for each learner.
Today's L&D leaders are looking to re-imagine training, finding new ways to build learner motivation while minimizing the amount of time spent in a program. ETU's LSP adapts training on-the-fly based on real-time learner actions. This latest advancement allows learner journeys within the platform to be dynamically re-sequenced with the targeted inclusion of eLearning content based on identified gaps. High performers auto-skip material they do not need, while other learners are served specific content addressing their skill gaps.
L&D is challenged to upskill teams at scale in a fully digitally effective and efficient way. Traditional eLearning tends to be delivered in linear one-size-fits-all courses resulting in learner fatigue. The time to competency is further increased by the proximity gap between learning and doing.
ETU has extended the adaptive capabilities of the platform to allow learning architects and designers to better guide learners to the specific content required. Upskilling becomes more efficient and seat time is reduced by measuring the application of skills accurately, and only giving intervention learning to those who need it. Learners' intrinsic motivation is supported by delivering relevant and immersive learning in more customized journeys.
For example, the Adaptive Branch can direct learners to video or resource content that addresses the specific learning gaps identified. The learner can be required to complete this remediation content before continuing to the next section of the simulation. Importantly, the learner is not required to leave the platform and detailed learner path data is captured.
"ETU brings personalization to digital learning journeys, mixing skills assessment with targeted eLearning content in a timely way. The result is better engaged learners, verifiable upskilling and optimized training" said Conor Gaffney, chief product officer at ETU.
Also included in Release 22.1 are platform enhancements to accessibility. The closed captions capability allows subtitle tracks to be included with simulations. In addition to accessibility, this is also useful for simulations translated into other languages. The original video can be retained when captions are added, and the author workflow for deploying closed captions has been improved.

Learners can easily activate/deactivate closed captions when running simulations. The Immersive Simulator stores the learner preference for future sessions. The option to enable/disable closed captions also appears when starting a simulation in task mode alongside other accessibility features.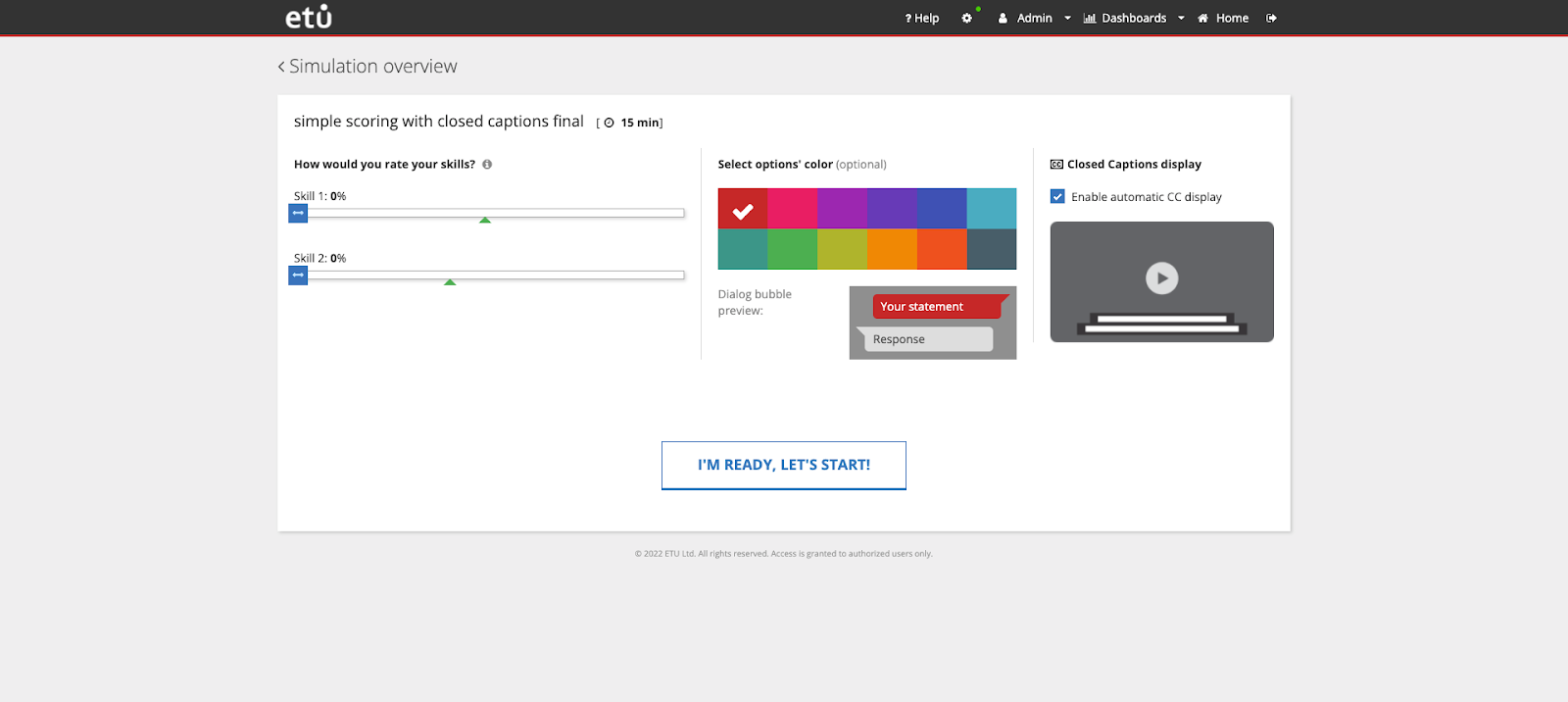 Learner view - accessibility options
The Simulation Builder is similarly enhanced to enable authors to easily bulk upload closed caption files. ETU supports the standard VTT file format which provides the most flexibility for authors. Authors can then easily toggle on or off closed captions, for each simulation. It is also possible to override a learner's default preferences, which is useful for simulations that are translated into other languages while the video remains in the original language. The 'always-on' ETU Health Check has also been enhanced to check the status of closed captions within a model, and visually flag to the author in real time.